Aktuell verteilt Microsoft Einladungen für ein Event am 30. September 2014. Dort geht es um "Windows and the enterprise".
Die Vermutung liegt nahe, dass an diesem Tag das neue Windows 9 vorgestellt wird. Vor allem deshalb, weil die Veranstaltung unter anderem wohl von Joe Belfiore moderiert werden soll. Belfiore hat bei Microsoft die Position des "Corporate Vice President, Operating Systems" inne.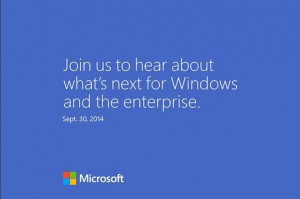 Ob ab dann auch die Technical Preview der Allgemeinheit zur Verfügung gestellt wird, wird man dann sehen müssen. Vielleicht erfahren wir auch schon mehr zur Update Politik. Aktuell hält sich das Gerücht, dass es das Update auf Windows 9 für alle Windows 8.1 Benutzer kostenlos geben könnte.